Maurice Switzer – President
Aanii/Boozhoo Niijii.
Bnesi ndizhnikaaz. Wazhashk ndoodem Anishinaabek, Okwaho Haudenosaunee..Alderville ndoonjbaa, North Bay endayaan. Greetings friends!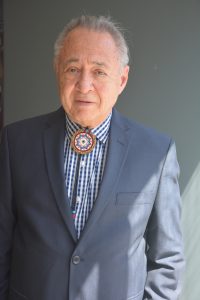 My priorities as a member of your board of directors are informed by what I have learned as a member of the Ontario Human Rights Commission, director of communications for the Assembly of First Nations and Union of Ontario Indians, and as a journalist for many years in the daily newspaper industry and writing for First Nations publications.
As a board member, I try to increase community awareness about Indigenous peoples, in general, and, in particular, about the excellent contributions being made by Friendship Centre staff that help make North Bay a better place for everyone who lives here.
Across Canada some 80 per cent of Indigenous people live in urban centres. Of 70,000 people living in the North Bay area, some 9,000 are Indigenous.
This population growth means services provided by Friendship Centres are becoming increasingly important, and we want to continue to provide programs that grow our membership and benefit more participants of all ages.
It has been my privilege to help establish Reconciliation North Bay, a process that is bringing together people from all walks of life in North Bay to learn more about Indigenous peoples and issues, and that had its origins as a committee of the centre's Urban Aboriginal Strategy.
Our board always welcomes your ideas about how to improve our programs and services, and we thank you for your support.
Katherine Sarazin – Vice President
I have been in the community as part of the North Bay Indigenous Friendship Centre since 1985. I have
held many positions on the Board of Directors over these years, and currently am President. I have four beautiful children, and four amazing grandsons. I always strive for honesty and accountability within my own life and that of the Friendship Centre. I consider myself as one who lives a humble life, utilising knowledge of the land that I have gained over the years. I attempt to pass on this cultural and spiritual way of life in everything I do and to people I meet. This Friendship Centre has been my home for over three decades and I want the for same for the rest of our community.
Lorraine Whiteduck Liberty – Secretary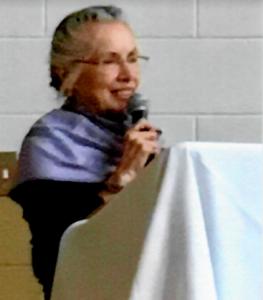 Having come from the waters of very strong and committed women, I have been able to carry the knowledge and beliefs of the Anishabe Teachings. Through the gift of strength, courage,
resilience and humility, in carrying and protecting the water teachings that have been given through the generations of Grandmothers, I have embraced the journey of sharing through my experiences.
To the community members, staff and family; as a long time, community member, I would acknowledge the people who have supported me through the years and for their confidence in my abilities to serve as a Board Member for the North Bay Indigenous Friendship Centre. Many Grandmother teachings have guided me through life's decisions and achievements and for that I say Chi-Miigwetch.
Dot Beaucage-Kennedy – Director
aanin, boozhoo, wachee, sago, greeting.
My ojibway name is Oginee Kwe (Rose Woman). I am from Nipissing First Nation and belong to the Eagle Clan. I have been with the Friendship Centre movement for 30 years as a Board Member, Community Member, previous Court worker and a Grandmother. It is with pride that I volunteer with the North Bay Indigenous Friendship Centre as we are the hub for Urban
Indigenous People who come to North Bay or attend school here. We have many programs here from birth to senior and as a Board Member, I am proud of who we are and what we are able to do in this city. We all belong to the human family and we are all part of the Medicine Wheel that keeps us united as we strive for quality of life and ensure that our Indigenous Culture is maintained within our walls so we can be the role models for the people we serve.
Chii Miigwetch for allowing me to share a small part of who I am.