COVID-19: KEEPING YOU SAFE
Due to the Covid-19 Pandemic, the North Bay Indigenous Friendship Centre is not available to the public until further notice.
The VON Medicine Wheel Healthy Way Clinic would like to assure you that we are open and here to assist you.
The Nurse Practitioner is offering in person visits (when appropriate), as well as virtual appointments by appointment to continue providing care to you during the Covid-19 pandemic.
An enhanced screening process is in place to keep our offices safe. Please do not drop in to the clinic without a scheduled appointment. 
If you require a medication renewal kindly have your pharmacy fax us or schedule a follow up appointment if you have been notified that further renewals will not be provided in this manner. 

For all other inquiries and appointment bookings, please call the clinic at 

705-472-2811 ext: 242, and follow the prompts on the message to be connected with the medical secretary and your call will be returned.
All persons, including the North Bay Indigenous Friendship Centre and VON staff who are entering the office, will undergo screening before entering.  Staff who screen positive will not be allowed to work at the clinic.
If you are concerned that you have Covid-19, please self isolate and contact the North Bay Parry Sound District Health Unit to speak with a public health nurse.
If you are experiencing shortness of breath, difficulty breathing, or any other serious signs and symptoms, please call 911 or present to the NBRHC emergency department.
For non-urgent healthcare needs, you may present to one of our many local walk-in clinics; some of which include:
Good Doctors North Bay
1221 Algonquin Ave Unit 105 –  (705) 980-0121
Head to Toe Clinic
1950 Algonquin Ave –  (705) 495-0300
Phil's Lakeshore Pharmacy – Walk in Clinic
41 Lakeshore Dr – (705) 476-4016
Thank you for your understanding as we navigate the COVID-19 pandemic.
July Newsletter Available for download!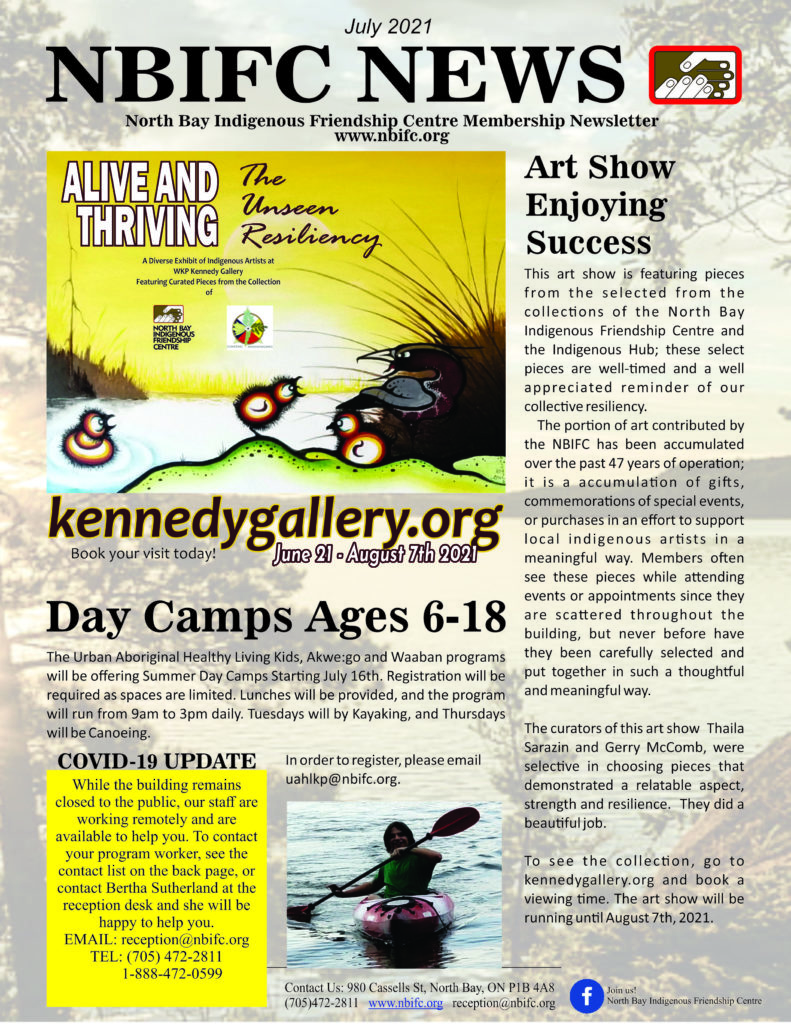 Announcement
As the NBIFC takes the safety of our Board, staff and community very seriously the North Bay Indigenous Friendship Center building is not available to the public until further notice. Due to the Covid-19 Pandemic, staff will continue to work from home. Please email them if you require assistance. We will keep everyone posted as we learn more. We truly appreciate your patience and understanding in this matter.
Our Mission
The mission of the North Bay Indigenous Friendship Centre is to improve the quality of life for First Nation, Metis, and Inuit people in the urban environment of North Bay by supporting self-determined activities which encourage equal access and participation in society and which respects Aboriginal culture distinctiveness. The North Bay Indigenous Friendship Centre provides a wide array of programs and services to support Aboriginal people of all ages. An important part of our mandate is to serve as a gathering place for Aboriginal and Non-Aboriginal people. The Centre is a place where Aboriginal culture is celebrated, friendships are made, knowledge and skills are shared and good times are enjoyed.
UPDATES! Click on Picture to view AND arrows on right to see more! (give time to load)
A hard copy of the Newsletters are mailed each month to those who have Paid Memberships with North Bay Indigenous Friendship Centre. Click Here to learn how to become a member